Our young people in the South East have been getting creative in the kitchen whilst taking part in the 'Fiver Survivor Challenge'. The challenge was put together by our young people to enable them to work on their independence and budgeting skills which are vital life skills required later in life.
The young people were sent a five-pound supermarket voucher and challenged to come up with a meal they could cook for under £5. They needed to plan the meal, go out shopping and get the correct ingredients at the correct budget, and then cook the recipe. The aim of this was to allow the young people to learn the value of things, taking responsibility for themselves and how to budget when finances are limited.
Our young people thoroughly enjoyed the challenge and loved sharing their delicious food with the whole family. One of our carers said: "EW thoroughly enjoyed all aspects of this challenge, from receiving her gift card, choosing her meal, shopping with her basket in Sainsbury's and then cooking her dish. She even enjoyed the washing up afterwards! We all enjoyed the dish that she made which was accompanied with a nice salad and crusty bread for our evening meal - EW enjoyed serving her yummy food at the table for us all".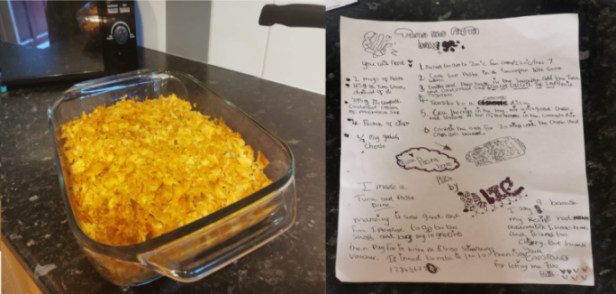 EW's tasty tuna pasta bake.
One of our other creative young people, AhS, made a Tuna fish Curry. He really enjoyed finding a recipe that was a bit unusual which included food and ingredients he enjoys eating. Here is the finished dish: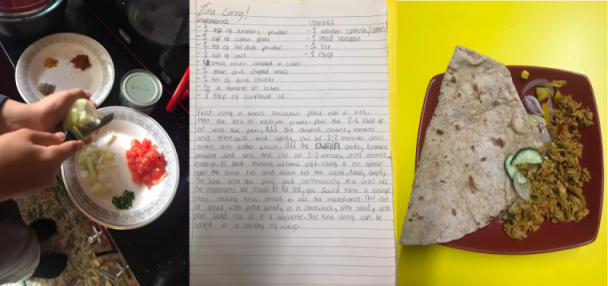 Our young person, AhS has written out the recipe (see above) for anyone who is interested in cooking the Tuna fish curry.
Another one of our amazing young people made a yummy potato and chickpea curry. The challenge allowed this young person to create a recipe he really enjoys eating, as well as learning how to make it for himself.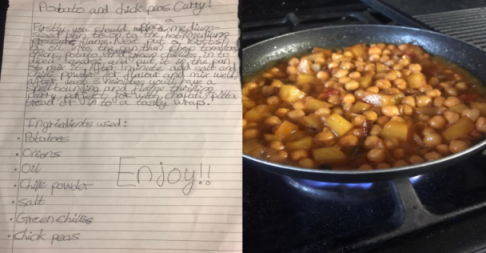 Our young person, AnS, has written out the recipe (see above) so you can enjoy the delicious curry too.
Our young people who took on the challenge not only learned how to budget when purchasing ingredients for their recipes, they also learned how to make healthier food choices. Our young person, MG, who took part in the 'Fiver Survivor Challenge' made a delicious and healthy recipe which included chicken, rice, and lots of nutritious vegetables. What she enjoyed most about the challenge was going shopping, choosing her ingredients, cooking them together and creating something that tasted and looked great!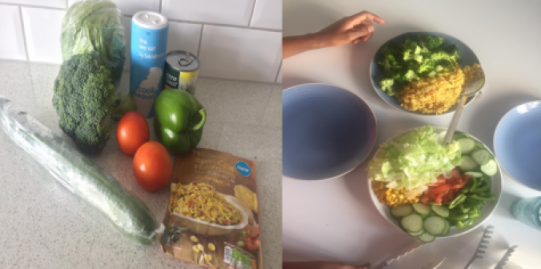 Here is a healthy and delicious recipe for you to try! Try out the Salmon & Pumpkin Rice with Side Salad recipe created by one of our young people below:
Ingredients:
Salmon, Rice, Pumpkin, Coconut milk, Thyme, Chocho (Chayote), Sweet pepper, Onion, Garlic, Curry Powder, Salt, Pepper, Parsley, Slice of lemon/lime.
Method:
Salmon
· Season salmon with garlic, salt, black pepper to taste, and fry for two minutes each side.
· Add chopped onions, pepper with half teaspoon curry powder to heated oil and stir till tender.
· Stir in coconut milk and cook for two minutes.
· Add salmon and cover for three minutes.
· Garnish with lightly cooked chocho (optional).
Pumpkin Rice
· Boil pumpkin until soft, then add coconut milk, thyme, and a pinch of salt.
· Wash and add rice to the pumpkin, simmer for 20 minutes.
· Garnish with parsley and lemon/lime and serve with side salad.
Why not take on 'The Fiver Survivor Challenge' with your friends and family to create delicious and low budget meals for yourself? We would love to see the yummy food you create! Share your meals with us on our social media pages @capstonefoster (Twitter) or @CapstoneFosterCarePage (Facebook).