The Capstone Devon team walked an impressive 500 miles to raise funds for the Macmillan Cancer Support charity.
The team wanted to do something for Macmillan Cancer Support that would enable them to keep fit whilst raising money for the charity. Walking was the most popular suggestion, so the team set a target to walk 500 miles and raise as much money as possible for their chosen charity. Due to the pandemic and local and national restrictions, the Devon team walked as many miles as they could manage per day individually and then shared the miles they accomplished with the rest of the team in a virtual meeting.
During the first week, the team managed to walk an amazing 74.5 miles between them, this meant the team had 425.5 miles to go before they reached their target of 500 miles.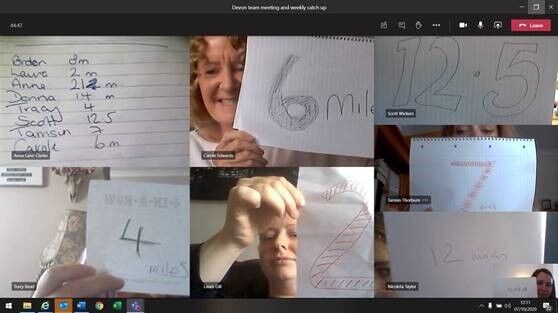 The team met up virtually to share the miles they had walked.
The team covered a lot of ground during the second week of the fundraising challenge, they walked an astonishing 176.33 miles in one week! In week three they collectively walked 117.7 miles which meant they had finally reached their target of 500 miles and had raised an amazing £540 for Macmillan Cancer Support.
The team have personal links to the charity, as do many of us, and the service they provide is so valuable to every person and family who needs their support. Although the team have completed the 500 miles, you can still donate and help support the Macmillan Cancer Support charity. If you would like to donate to the fundraiser, you can donate here.
A huge well done to all that took part and raised money for such a wonderful cause that is close to many of our hearts.
If you have taken part in a charity fundraiser and would like to share it with us, please contact the team here.