As part of Sons and Daughters month, we are celebrating the birth children of our wonderful foster carers. We want to thank all those birth children who have welcomed children and young people into their homes and making them feel like a part of the family.
Alex and Robbie's parents are foster carers and have been fostering with Capstone for many years. They wanted to share with us how fostering has changed the whole family's life for the better and the positive impact it has had.
Alex, 28
Mum and Dad both foster with Capstone and fostering has been, and still is a huge positive part of our lives, even though I now live in Bangkok. Whilst I was living at home as an adult, I went through the process of becoming a foster carer myself, which enabled me to have the opportunity to have sole care of the children, providing support for my parents whilst they had a break away together to South America.
Not only could Mum and Dad go away knowing the children were safe and cared for in their own home by someone who was part of their family, but that the children felt relaxed and happy too. It's been a great experience to watch and engage with the children as they grow and it's been brilliant to see the change in my foster brother R from when he joined our family at 11 years old to see him becoming an adult and being so confident at residential college. Mum and Dad continue to provide a loving, supportive and structured life for my brothers and it's a way of life that our whole family have all gained from.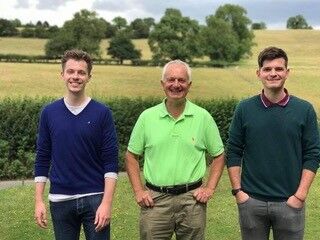 Alex on the left and Robbie on the right.
Robbie, 26
My name is Robbie, and for the last ten years I have had the privilege of being many looked after children's foster brother. Ten years ago, my birth brother Alex and I left home within a week of each other, after he gained a position at University at 18 years old and I joined the British Army at 16 years old. By us leaving home at the same time, it meant that our house was left empty. Only Mum, Dad and our dog Jeeves were left! Knowing that my parents had fostered previously, when they approached me and my brother about their idea to start fostering again as there were empty rooms in the house, we all thought it was a fantastic idea. I am so grateful for all the unconditional love and support that my parents gave me growing up as a child, it was lovely to know that other children would be benefitting from this too.

Over the last ten years I have been fortunate enough to meet children from many different backgrounds through my parents fostering. I feel as an older birth child I have much to offer the children in my parents' care. My experiences of growing up and going to school will be like theirs, so I can empathise with them if they have had a bad day and suggest ideas that might help them. Being a foster brother has not only allowed me to share my experiences and help support looked after children, but it has really helped me learn a lot, grow as a person and empathise with people from all walks of life.

If you have a story to share with us to celebrate 'Sons and Daughters' month, please get in touch at: communication@capstonefostercare.co.uk.