J is an inspirational young man who we are all very proud of here in Capstone SW.
J has been living with our Devon carers for nearly 7 years, now on Staying Put since he turned 18. J has always talked about his dream of joining the Army. He has been a cadet, aimed high in his fitness goals and despite numerous challenges along the way has kept his focus and shown real determination to achieve his dream.
During lockdown, J's Army application process was put on hold and a frustrating wait began. J hoped to hear of his dates to attend the selection days, but the weeks rolled by with no news. He kept his focus, stayed active, set himself fitness challenges and kept busy; no lockdown weight gain for J!
Eventually dates for his assessment camp came through and in June J set off to Pirbright on the train, waved off by his carers, who had a few tears after the train pulled away, feeling a mix of pride and apprehension.
J returned 2 days later…. "buzzing", with a huge smile and giant spring in his step.
J passed all of the tests "with flying colours", he came in the top 10 of the selection group and excelled in all areas, he made new friends along the way and has gained a huge sense of achievement. J is rightly very proud of his efforts and is looking forward to a very bright future.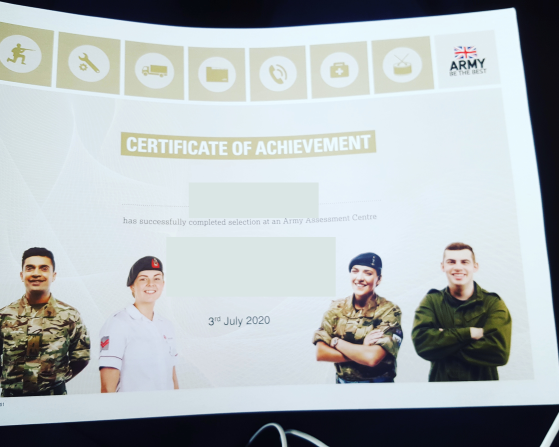 J's certificate of achievement for all his hard work and effort.
J will join the Army later this year in October, in the meantime, he's staying focussed and keeping fit, setting goals and aiming high. There is a lot we can all learn from you J. You make us all very proud indeed!
If you have a story similar to J's and would like to share your proud moments with us, please get in touch at: communication@capstonefostercare.co.uk.